Swedish innovation company secures several patents
The Swedish pneumatics company, Staccato Technologies recently got two new patents approved by the European Patent Office, and a third, so far Swedish patent is being evaluated at EU level. All patents are about valves for control of compressed air and liquids.
Staccato Technologies is a rather unknown company, but since they released their latest product, a position control unit for pneumatic actuators, they have become more famous. Their products are now being used by several well-known international companies.
Fleming Pedersen Dambo, CEO of Staccato says, "The Positioning Unit turns out to be our top seller, but it would not have been possible without the two patents we have now, which ensure a unique valve technology. The first patent is about our basic technology, with a whole new type of valve principle, which allows for an incredibly fast valve with long life time and high flow. Normally, one must choose one of these attributes, and renounce the others. The third patent is about our valve seat, where we supply flow from two directions. Normal valves have lower flow during the opening movement, which is a problem in fast applications, but we do not have that problem with our solution"
You talk about long life, what do you mean? "Our tests show that our valve is able to handle 1 billion cycles – it means 32 years if the valve turns every second 24/7. It will be closer to a hundred years if we speak normal working days. " That is why our valve fits faster applications where traditional valves are worn out.
It is not uncommon that Swedish companies leads innovation, and it will be interesting to follow Staccato's development. They recently made a strategic change, focusing more on industrial applications. In the past they mainly made valves for heavy vehicles. They were previously known as SO Electronics.
The Patents, WO2008156405A1, WO201526304A1 och WO2016167699A1 are simple but ingenoius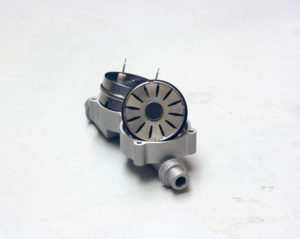 (picture "spring package") shows Staccato's valve principle, with a magnetic spring package, which differs significantly from traditional technology with a moving iron core and loose spring. The technology enables long life time combined with a compact solution with high flow.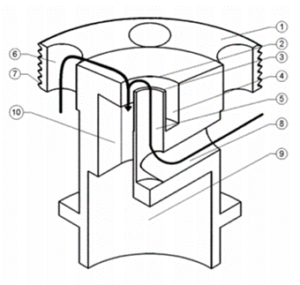 (Figure "Patented Valve Seat") shows a flow path through Staccato Valve Seat, allowing for even faster switching and greater flow.
Staccato Technologies is a valve company that develops and manufactures Valves and Valve Controls for Industrial Applications, Truck Motors and Textile Applications. Staccato is part of the same industry group as Aros Elektronik and IRO.
Press contact: Fleming Pedersen Dambo, CEO fleming.dambo@staccatotech.se 073-6425667